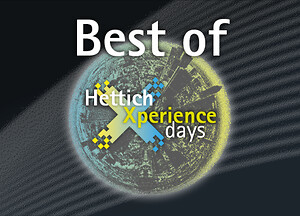 Experience the full Xdays power for one more day with the highlights of the past weeks. Hettich would like to say THANK YOU and invites all customers and partners worldwide to the big, joint digital finale on Thursday, 2 September 2021, starting at 06:30 CEST.
You can follow the event streaming directly on the portal https://xdays.hettich.com or view the acts later in the media library.
From interesting highlight keynotes and exciting tours to the mouthwatering outdoor barbecue show by Moesta BBQ, everything is included. A special highlight is the keynote by Dr. Andreas Hettich on "Chances in the Post-Covid World", in German at 09:30 CEST, in English at 06:30 and at 17:00 CEST - Curious yet? The full event programme is already online. Take a look, register free of charge and join in digitally on 2 September: https://xdays.hettich.com – Stay tuned! "Let's move markets!