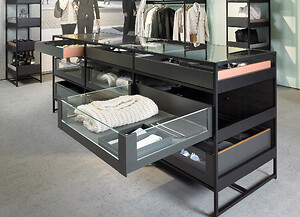 This also applies to shop and kitchen: calling for a personal touch in just the way Hettich makes possible with its versatile and adaptable AvanTech YOU drawer platform. The system now provides the key to creating even more attractive design options.
At HettichXperiencedays 2021, Hettich is presenting highly practical concepts for a wide variety of applications – easy to realise and completely individual in terms of design. A new generation of furniture that can be designed in many different ways comes with clear added value for shop and interior fitters, retailers and consumers. Yet kitchen manufacturers from the high end segment too need to take a closer look at these high quality furniture solutions from Hettich: the delicate Cadro frame system combined with AvanTech YOU drawers with new features provides attractive options for appealing kitchen design with immense functionality and working components that are virtually hidden from view.
The versatile and adaptable AvanTech YOU drawer system takes every effort out of individualising design to meet any customer preference in colour, format and material. Even in the standard lineup, the platform permits a whole host of combinations for greater design flexibility. Now, on request, AvanTech YOU even gives furniture its very own lighting signature. In clip on designer profiles, homogeneous LED light at 4,000°K illuminates open drawers on the inside or makes an eye catching feature on the outside. Creating stunning visual effects, glass inlays with polished or ground edges can also be shown off in the best light. In each case, a practical rechargeable battery pack provides the necessary energy. This obviates the need for costly and complicated electrical connections. Also making their debut at HettichXperiencedays are the new DesignCapes in a copper and concrete look, adding two on trend design options to the standard AvanTech YOU range.
https://xdays.hettich.com